A Beginner's Guide to Oriental Rugs
My love for Oriental rugs began when I was a teenager in High School. I used to help my father in his upholstery shop by moving furniture for his customers. A lot of these customers had beautiful Oriental rugs in their homes, and soon enough I began collecting them myself. By the age of 20, I had opened my own rug store and have been buying, selling, cleaning and appraising carpets ever since. My customers mean a lot to me and I hate to see people get a bad deal when investing in an Oriental rug. This guide is meant to help you on your journey of finding the perfect Oriental rug for your home without overpaying or getting ripped off.
A Customer's Story
Years ago, I sold one of my rugs to another rug dealer in the area. Several months later, one of my customers came in with the same rug to be cleaned. I told her I had recently sold that rug to another dealer. Her home decorator had taken her to that rug dealer to find a new rug for her home. This rug dealer sold the rug to her for $3000. I was only asking $1500 when it was at my store. Although this experience was unfortunate for my customer who said she will never go back to that dealer, I use it as a lesson to tell people how important it is to do research before investing in an Oriental rug.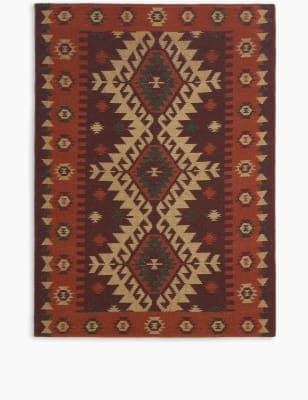 Don't Be Fooled By "Going Out Of Business Signs"
On my commute to and from work I drive by another Oriental rug store. For the last three years they have had the same "Going out of Business" "Liquidation" and "Everything MUST Go" signs hanging in their store windows. Obviously they are not going out of business or those signs would have been gone two years ago! When you see signs like these around for more than a few months, they should serve as red alerts. These salesmen will try to tempt you with "discount prices" and claim you're getting the best deal because they have to get rid of their items. This is false. Oriental rugs are an investment, and unless you're experienced and have done your research, you should be wary of purchasing from stores like these.
So, How Do you know if an Oriental rug is really "handmade"?
It can be difficult for a beginner to know marks and spencer rugs whether they are looking at a handmade rug or a machine made rug. Here are a few tips you can follow that will help you make the distinction.
Follow this step by step guide to determine whether you have a handmade piece, or a machine-made rug.
Steps
1. Look on the back of the rug at the weave. Look for white or red or blue horizontal (to the fringe) lines of foundation threads. These threads are called weft threads. You may see partial wefts going only an inch or so, and then covered by the wool knots, but it is important that these threads are horizontal to the fringe. Sometimes the horizontal threads go all the way from one side (bound edge) of the rug to the other side. The horizontal row of wefting may not be perfectly straight.
2. Look for unevenness in the colored knots on the back of the rug. You may see some areas slightly thicker than others.
3. Now look at the front of the rug. Look at the design carefully. Very rarely will the design be exactly the same size and shape from one end to opposite end of the rug. This is true mostly in older Oriental rugs.